WELCOME TO EPIXFAB!
ePIXfab is a not-for-profit open alliance of academic and industrial organizations with a mission to promote silicon photonics science, technology and applications. Click HERE for more information about ePIXfab's mission and activities.


INSPIRE, a H2020 project

INSPIRE, a project coordinated by TU Eindhoven, will revolutionize PICs by combining InP and SiN photonics in a single platform, using wafer-scale micro-transfer printing. The technology will be validated by use cases in fiber sensing readout, microwave photonics, and datacenter switches. Further Partners are imec, SMART Photonics, Amires, X-Celeprint, Thales and Cambridge University. We start January 2021.
Research Highlights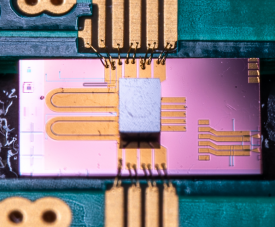 100Gbps Transmitter breakthrough
Silicon photonics researchers from the Optoelectronics Research Centre (ORC) have demonstrated the first all-silicon optical transmitter at 100Gbps and beyond without the use of digital signal processing. The optical modulator almost doubles the maximum data rate of current state-of-the-art devices, demonstrating the potential for low power low-cost all-silicon solutions.

Read More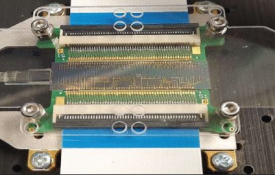 Multi-Rate and Multi-Channel Optical Equalizer Based on Photonic Integration 
A 3-tap OE on TriPleX platform has been demonstrated. Using tunable OCs and MRRs as tunable TD lines, the OE has the potential for multi-rate and multi-channel operation. This potential was indicated using 4.67 and 5.84 Gbaud OOK signals at 1556.49 and 1557.86 nm. The use of the OE has led to substantial eye-opening improvement and correction of bit errors for signals with strong bandwidth limitations as previously predicted by theoretical studies.
Read More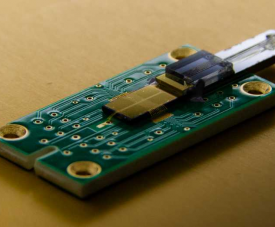 A photonic integrated ion trap for scalable quantum computing
A custom photonic integrated ion trap fabricated by LioniX International has been used to create a scalable building block for quantum computing rivalling the most sophisticated experiments. The ion traps, described in a publication in the journal Nature, were designed and packaged by a team at ETH Zurich for use in quantum computing to create "qubits", the quantum equivalent of the "bit" in classical computing.
Read More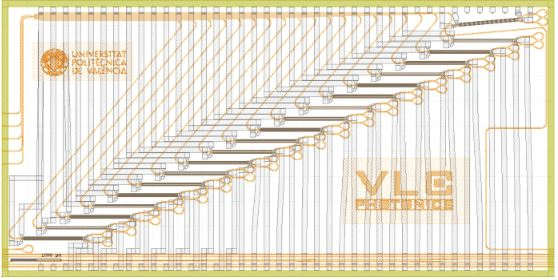 Reconfigurable reflective arrayed waveguide grating using optimization algorithms
An experimental realization of a reconfigurable reflective arrayed waveguide grating on silicon nitride technology is presented, using optimization algorithms borrowed from machine learning applications. A dozen of band-shape responses, as well as a spectral resolution change, are demonstrated in the optical telecom C-band, alongside a proof of operation of the same device in the O-band. In the context of programmable and reconfigurable integrated photonics, this building block supports multi-wavelength/band spectral shaping of optical signals that can serve multiple applications.
Read More
Industry news


HITACHI ACQUIRES VLC PHOTONICS
A long-term provider of components and services to the optical communications industry, Hitachi High-Tech is aware of the increasing need of customers for greater integration and innovation. As the foremost independent provider of PIC design, test and engineering services, VLC is in an excellent position to help Hitachi High-Tech serve the new requirements of its existing customers as well as providing a base for the development of new service provisions.

Read More
IPKISS 3.4 REALEASED 
Luceda Photonics is bringing your team closer together with the new IPKISS 3.4 release. IPKISS is the ideal platform to persist your team's knowledge and allow designers to reuse their colleagues' work. Custom libraries can be easily built on top of foundry PDKs. Managing multiple libraries, readily connecting components and showcasing your designs is made even smoother in the newly updated IPKISS.eda, thanks to the integration with L-Edit and L-Edit Photonics from Mentor, a Siemens business.
Read More
ePIXfab coordinator
Ghent University
Technology Park 15 Zwijnaarde, 9052 Ghent, Belgium
email: info@epixfab.eu
Newsletter editor
Hanna Becker (editor)
Mircea Balauroiu (as. editor)
Aarhus University
Denmark
email: m.heck@tue.nl
© 2020 ePIXfab-EUROPEAN SILICON PHOTONICS ALLIANCE|
Unsubscribe